Arnold Pediatric Office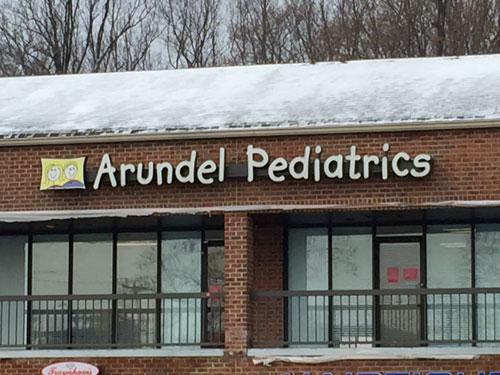 Address
1460 Ritchie Highway
Suite 209
Arnold, MD 21012
Contact Information
Please call during these office hours to set up appointments or to speak with our staff.
Phone: 410-789-7337
Fax: 410-349-1107
Office calls are taken by answering service after regular office hours.
Office Hours
Monday - Friday: 8:00 a.m. to 5:00 p.m.
Phones open at 7:30 a.m.
The office and phones close for lunch 12:00 pm to 1:00 pm.
*Saturday: 9:00 a.m. to 12:00 p.m.
Phones open at 8:00 a.m.
During the summer months, Memorial Day through Labor Day, the office may close at 4:00 p.m. on Friday. Please call ahead if you plan to pick up prescriptions or paperwork after 4:00 p.m. on Friday.
*Saturday Sick Visits
Effective January 1, 2023, all appointments for Saturday visits will be seen in the Arnold office only.
Call 410-789-7337 for more information.
Interactive Google Map
Google's Door-to-Door Driving Directions
For directions to our office, enter your address:
Driving Directions
From Baltimore to Arnold:
I-695 East towards Glen Burnie
Merge onto I-97 S via EXIT 4 on the LEFT toward I-97 South
Take the MD-100 exit, EXIT 14A, toward Gibson Island
Merge onto Ritchie Hwy toward Bay Bridge for approximately 9 miles
Make a RIGHT onto Arnold Rd and a RIGHT into Arnold Station.
We are located in building 1460, Suite #209.